The latest Premier to be supported by the Disney Digital Studio Services' Projection team was the LA Premier of  John Carter held at Regal's LA Live Theatre in Downtown Los Angeles.
On Wednesday, February 22, 2012, a gala Hollywood Premiere event was held in a 800+ seat venue, in 3D for VIP guests, film makers, and studio executives on Regal's huge 70 foot wide screen.
Simultaneously, two additional theaters were filled with D23 members. fans and radio ticket winners.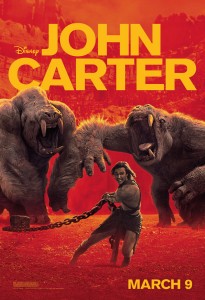 Behind the scenes, and for several days before, our Digital Studio Services team coordinated the technical and logistical projection support for the event. Each venue was calibrated and set to the high and exacting standards that make the Disney Digital Studio Services Projection team our Studio's and filmmaker's projection support partner of choice. When the show just has to be perfect and when the show must go on, Digital Studio Services has been and continues to be an important part of making sure the images and sound are perfect.
Working with Regal Entertainment, and Dolby Labs., two auditoriums were permanently upgraded to the 7.1 audio standard that all Disney releases support for the fullest and most immerse sound experience available in theaters today. In addition, the images were calibrated to a new 3D light specification which allows a 3D film to be displayed  at the brightest level that can be supported. Using the latest RealD 3D XL technology each auditorium exhibited images more than twice as bright as is typically seen in most 3D presentations.
On show day, our Disney Digital Studio Services were on hand and in the booth to support our Studio Special Events team to provide a perfect show that looked and sounded its best.