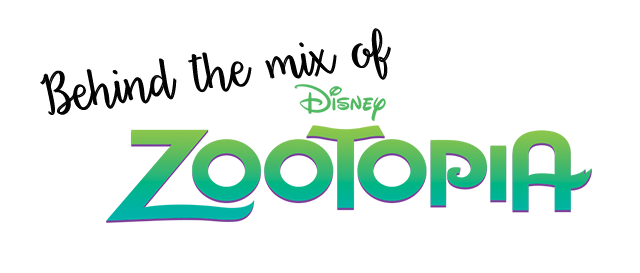 Zootopia presents an exciting, wise and quirky world. Intricate sound design, music and mixing helps to tell this amusing story.
We sat down with David Fluhr, the re-recording mixer on Zootopia, for an in-depth look at the sound behind it.
Q: How was it working on the mix of Zootopia? 
David Fluhr: It was an amazing experience. We mixed the first temp mix last summer. (A temp mix is the mix that is prepared for audience previews.) It was our first look at it. It was very rough animation because they kept fine-tuning the story. And so we were looking at a lot of story sketches and layout and you could tell even then it was going to be beautiful.
There are scenes in the forest, in the jungle, in the Savannah and all these places that gave us the opportunity to play ambient background as well as immersive music. There's also a lot of action, so it had everything to make it a fun challenge sonically.
---
Zootopia was a fantastic mix because it was a great crew and a great movie!  When you have fun people and it's a film you enjoy, it brings the whole experience to a new level. -Steve Schatz/ Mix Technician on Zootopia
---
Q: How do you approach a mix?
David Fluhr: My philosophy is that sound should always be supporting the story. If we're not supporting the story with what we're doing, we're not doing the right job.
We're not just haphazardly flying sound effects around the room and being gimmicky… So, when we keep that focus, it works. Especially when we are mixing as we do in native Atmos, the dialog, music and sound effects have to be meticulously designed and prepared so that we are very efficient with our allotted time for predubbing and when doing the final mix for the film.
There's a million decisions we're making all day long… What to do, how to play it; how loud, how bright, how dull; special effects and panning. A lot of what we do is weeding out sound… We're actually taking away and minimizing what we really need and not overloading. There's things that we try and experiment with story wise, musically or dialogue wise; or " joke wise…" but it might not really support the story… so out it goes.
There can be a lot of pressure on the dub stage. But our job is to be easy going, confident, and creative always keeping the film in mind as we hit deadlines and deliver. We've got an amazing team, and a great relationship with the creative folks at Feature Animation, so we're pretty confident in the work we're all doing together. It's a real brain trust.
---
As a female picture editor, walking onto a male dominated mix stage can be somewhat intimidating, but from the first moment, David Fluhr and his team's warm reception made me feel welcome and part of the family."

From the first playback I knew the film was in good hands. Dave and Gabe Guy are first and foremost story tellers, their insight, story telling talents and technical expertise gave the movie what it needed. Most of the time I just sat back in awe …They really know what they are doing. The balance between Giachino's  score, Addison Teague's fantastic SFX, all the dialogue ( there is a lot of talking in this movie) was perfectly executed and always with story in mind. The process was fun and collaborative, and the day was not complete without a few brilliant puns from Dave. – Fabienne Rawley/ Film Editor on Zootopia
---
Q: Can you tell me a little bit about the sound mixing process?
David Fluhr: Early on, the Supervising Sound Editor and Sound Designer Addison Teague had a "spotting session" with the directors. That means they sat down together and worked out the sound concepts for each scene of the film. The director might say 'I want this scene to feel dangerous," or "I want this to be dark," "…I want this to feel light and funny." And they'll give concept notes about the sounds that they want… "We want this car to sound really funky like an old broken down thing," or they may ask the designer to come up with ideas himself for how things should sound. It's the first chance to talk through the film and talk about how sound effects and design can support the story. (The directors will also do the same process with the composer and the music department)
Addison then began to experiment with things… and presented those sonic ideas to the directors for polish and fine tuning. When he gets an idea of what he's going to do for the film, the rest of his team will come on. He's got his team of sound editors who handle the hard effects and background effects. And also they will cue and record the Foley—footsteps and sound "props." Anything that moves gets a sound-so it is a very time consuming and detail oriented task. Addison's dialog team also starts preparing the production dialog, and new ADR and group ADR that needs to be recorded and edited.
When we begin predubbing, Gabe Guy, who is the re-recoding mixer responsible for sound effects, will start before me. He will organize, blend, pan and manipulate all the sounds in a 'virtual' immersive mix.
This was also a big dialogue film… lots of characters plus group ADR, and crowds. Given that, I'll go through and I'll fine-tune what I want each voice to sound like and cleanup little defects… I'll them up. In a predub, it's all about controlling all the elements so that the final mix can be smooth and organized.
We want the track to be inviting. So we don't want it to be hurtful or piercing when the action ramps up. We keep our Disney audiences in mind. We're trying to balance the track so it plays nice and evenly. And to the point where, when Gabe finishes the sound effects premix, I finish the dialogue premix, then we come together and we start the final mix and that's where we bring the music in.
---
Having worked on over 50 films, I can attest to the fact that none of them come easy.  But that said, there is no better bet than things going beautifully on Disney's Stage A.  The mix for Zootopia was inspired, perfectly executed and delivered the soul to this spectacular film.  I can't wait to be back there. -Tom MacDougall/ Music Supervisor on Zootopia
---
Q: What was it like weaving Michael Giacchino's score into the film?
David Fluhr: When we start adding music into things, it changes the perception of how everything is playing. Everything gets enhanced yet again. He's creating themes for each of the characters; themes which thread through the whole film. And he's replacing things that have been in the movie for a while with his own take on things. And so that changes how we're going to play the other sound elements. The score is bold and different, and very exciting.
For example, at the start of reel two when Judy is doing her due-diligence as a meter maid, and writing 200 tickets before noon, there had been a temporary song in that position for a long time that's now changed. So when Addison built his sound effects, he built them to work with the music that was already there. Now we have this new score piece, and he had to rethink how he's going to build the sound effects. And again, a lot of times it's what we don't play , and weed out, because the music was designed to be big there. Sound effects might take a back seat to the music; There are other areas like in the big jungle chase where the music was designed to play along WITH sound effects—trading places on and off. And it takes a long time to balance. It's always a dance- and Zootopia presented us with several of those fun challenges. We also look for and found a few spots to remove music, and go with ambience and dialog- which can have a very dramatic effect on the focus of a scene, and help keep your ears from getting 'tired'.
---
The Disney Sound facilities and support staff were top notch. Days ran smoothly and on the odd occasion when they didn't, they crew were quick to respond and get things back on track. -Dave Okey / Post Production Supervisor on Zootopia

---
Q: What is it like working for John Lasseter? 
David Fluhr: We spend roughly 40 days mixing the film. Everyone's putting their blood sweat and tears into mixing the movie. We play it back for ourselves and we get the directors' notes, and we get it whipped into shape to what we think works, and at the end we have to play it for John Lasseter. And at that moment, everyone's putting it on the line. But that's the job. We don't get paid to just "paint by numbers;" we as sound artists are there to contribute to a film..and it's always best as a collaboration. John creates that environment.
It is a lot of fun to watch John screen a movie. He just gets into it and he's so focused. He's so right on with his perceptions of how thing should play and so his notes are detailed and creative; and ALWAYS about driving the story line or character development. He gets into incredible detail with fine-tuning little things. But he also leaves you to it, to do it as you feel it. It's really fun because he just loves film-making so much and that rubs off on all of us.
---
The sound design needs for Zootopia provided lots of fun opportunities for the sound team.  The beautiful artistry of the animation was daunting, yet inspiring, for us to bring to life sonically.  The different environments were visually stunning, and our directors Byron and Rich had very specific ideas about how each district should sound.

My favorite thing to do with sound on this film was to play with scale, based on the constant changing point of view.  When our protagonist bunny Judy Hopps is dwarfed in a scene surrounded by Elephants and Tigers, we needed to play her small.  But when she is running through a neighborhood of mice and hopping across rooftops, she suddenly becomes a giant!  A rolling plastic donut is played like the bolder roll in Raiders of the Lost Ark, and then one shot later is played as a little plastic toy, just because it is suddenly scaled against larger animals.  It is easy to have a bunch of animals act like humans, but the camera placement provided countless fun opportunities to enhance the visual point of view with sound effects.

Everyone on the sound crew fell in love with this movie from day one, and arrived to work with an atypical energy.  Sound professionals work on a lot of movies, and to get the chance to be a part of something this good was not taken for granted.  Life is short and it is rare to be a part of a great film that will live on past our time here. – Addison Teague/ Sound Designer / Supervising Sound Editor on Zootopia

---
Q: What is it like to work on Disney's stages?
David Fluhr: Our mission at Disney Sound is to take care of Disney movies. When I and the team behind the mix walk onto these stages and sit down, we've got all the resources, and all the horse power we need. When you come here, everything works. And if it doesn't, we've got lots of very smart people who know exactly what they're doing to help. So, as a result, I'm able to work exactly how I want to work.
The studio has really been able to fine-tune the personnel and the people who have the same philosophy about innovation and protecting the brand. And It is reflected in the movies.
---
Zootopia's amazing success started on the mix stage, with the wonderful expertise of mixers David Fluhr and Gabe Guy, our Sound designer Addison Teague and his amazing crew, and music composer Michael Giacchino and music editors Steve Davis and Dan Waldman. 

When you step on Disney's Stage A you always know you'll get the best of everyone, that's certainly what you get from lead Mixer David Fluhr who will not only share with you his creative talent  but will put his passion and soul into it. It's a wonderful partnership and the results speak for themselves! Thank you so much for supporting Disney Animation… Now onto the next one! -Berenice Robinson/  Walt Disney Animation Studios VP Post Production 
---
Q: What is it like working with ATMOS?
David Fluhr: We've been fine-tuning the work flow with the last few movies so that it WORKS very well, and it's comfortable… I would say- being able to deliver an extremely complicated, immersive native Atmos mix – on schedule and on time and as expected, with very few overages, is kind of a geeky cool thing that we all take pride in.
Atmos is an incredible tool for storytelling. We are able to immerse an audience in sound effects or music like never before. That doesn't mean LOUD. Actually the QUIET scenes are a big showcase for Atmos—as every detail is heard…and the sonic imaging is amazing. Creatively, I tried some different things using Atmos to create unique sonic spaces for the first time using reverb treatments on dialogue. And I was so pleased – it worked even better than I had hoped. And you're really taking this big, immersive mix down to two speakers eventually, or ONE even, and everything has to play right as intended. Experimenting with that change really helped creatively I had a lot of control over that I never had before over the spaces and locations. And I'm going to incorporate this into every movie I do like that. It goes back to the philosophy of innovation and having the right tools to do the job and being able to think outside of the box and surround with people who are much smarter than me. I like to work with people like this so that everyone elevates.
Q: How do you feel about the mix now knowing that Zootopia has been such a hit in theaters across the world?
David Fluhr: I'm very glad that this has had amazing run! That's what we want (so they make more of them!). These movies live forever and that's a big responsibility for us. It's not just a one off Saturday night at the movies. That's why it's really important to get it right during the mix.
It's about the storytelling… it keeps coming down to that. And generations will enjoy these movies for years to come. I'm just super thrilled and grateful to be a part of the team because of what we get to do every day.
---
The Zootopia sound mix was truly the most collaborative I've ever been involved with. Every department (dialog, music, effects) was absolutely willing to change or get out of the way to help tell the story in the best way possible. -Gabe Guy / Re-recording Mixer on Zootopia
---
Zootopia is now available for home release.  Buy your copy today and explore for yourself the magic of the sound behind it!