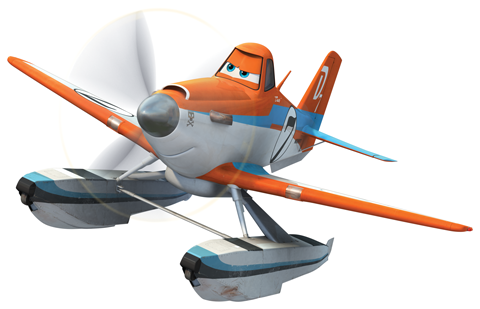 Planes: Fire & Rescue, which opens in theatres on July 18, is the latest installment in the Planes story. In the 2013 feature – Planes, audiences were introduced to Dusty Crophopper, the spunky plane that conquers his fear of heights by competing in an around-the-world aerial race. In Planes: Fire & Rescue, Dusty enters the world of aerial firefighting, with veteran fire and rescue helicopter Blade Ranger and The Smokejumpers, a team of all-terrain vehicles.
"The heart and scope of the movie is pretty big," says Brent Hall, DisneyToon Studios director of post production. "Production has been going on for about two years."
From the beginning, Digital Disney Studios' creative sound department began conversations about how the newly added Atmos mixing capabilities could enhance a film's storytelling. Dolby Atmos supports up to 128 discrete audio tracks and up to 64 unique speaker feeds in the front, surround and ceiling. Each loudspeaker can get its own feed, enabling precise panning of select sounds and creating a never-before-heard level of audio immersion. "Atmos is a 3D sonic immersive sound experience," says David Fluhr, who is the dialog and music re-recording mixer, along with sound effects re-recording mixer Dean Zupancic on Planes: Fire & Rescue. "We can bring sounds off the screen and immerse an audience, not just in a wall of sound, but we can place objects in individual locations around the room. We can also blanket areas of the theatre in sound. We have more options than we've ever had before.
"Dolby Atmos is an important upgrade to the theatrical sound experience that we haven't seen for 30 to 35 years, especially in the surround or immersive part of the auditorium," adds Brian Saunders, VP, Sound Services at Disney Digital Studios. "Atmos allows us to place sound 360 degrees around the circumference of the auditorium as well as overhead. It's a new tool in our creative palette."
Since planes and all-terrain vehicles are the main characters, Saunders and the Sound Services team knew that early collaboration with storytellers would be fruitful. "The sound department went to DisneyToon Studios on the original 2013 Planes feature when Atmos was very new, and suggested to the filmmakers that their show lent itself perfectly to the format. DisneyToon Studios moved forward with Atmos on Fire and Rescue because of the success of it on Planes and John Lasseter's enthusiasm for the format." Saunders says. "Atmos offers a lot of possibilities and we're really excited about it."
Hall notes how important the audio is in Planes: Fire & Rescue. "This movie has probably the biggest sound design I've ever worked on," he says, noting that sound designer Todd Toon began in January 2014, and recorded numerous authentic aircraft and vehicle sounds specifically for the sound design of this film. "In a movie with human characters, everyone can pretty much sound the same when they move, versus an animated film like ours where the characters are all specific vehicles with specific sounds." Hall continues, "In Fire and Rescue, each vehicle – and there's a good dozen of them – has its own unique sound that we made sure was accurate."
"Having this level of realism in the sound design is important to our filmmakers. It's definitely important to [executive producer] John Lasseter," says Hall. "To John, it's important that when you tell the story that everything is sonically authentic."
Re-recording mixers Fluhr and Zupancic mixed Planes: Fire & Rescue on Disney Digital Studios' Stage A, the first dub stage in the U.S. to be equipped with Dolby Atmos. "Stage A has an amazing legacy," says Fluhr, who's called it home since 2004. "It was the original scoring stage for Walt Disney Studios and while it became a little too small in the 1980s for the large scale orchestras, it is actually quite a large space for a mixing stage. A year ago, it went through a major renovation and the first step of the upgrade was to install an Atmos mixing system. With 46 speakers, Stage A is now at the forefront of the latest technology with video and audio playback in all formats including Atmos and IMAX."
"Very few stages are ready for Atmos," says Hall. "Getting on Stage A was important for us, and doing a full Atmos mix has been really exciting. The movie is tailor-made for Atmos, with the planes, helicopters and quite a few action sequences where the immersive sound takes advantage of the overheard sound field of Atmos."
Fluhr describes how Disney Digital Studios' sound department addressed filmmakers' concerns that an Atmos mix – in addition to the other list of required mixes — would add more time. "We can't add hours or days…it has to be a practical real-world solution," he says. "That's why we've done the R&D to create the most efficient workflow to mix Atmos as well as the 7.1 and 5.1 mixes. As a result of that R&D, Planes added no extra time to the mix schedule."
Mixing Planes: Fire & Rescue in Atmos offered Fluhr and Zupancic tremendous opportunities to enhance the storytelling. "In one scene, the characters are around a campfire, with one of them talking and the camera making a 360-degree move. "With Atmos, I moved the voice in a circle completely around the room," says Fluhr. "I could never have done that with such great accuracy before Atmos."
Atmos also allowed Fluhr and Zupancic the opportunity to pan dialogue across the screen with tremendous accuracy. "We were able to place dialogue in the space where the characters' mouths are moving," he says. "That's not something we traditionally do throughout a Disney animated movie. What makes Atmos so amazing is that the proper sound is coming right from a specific spot on the screen."
Fluhr also reports that the overhead speakers in particular are another plus that worked out well in numerous scenes in Planes: Fire & Rescue. "Now in flashback sequences, sound can come at you from above or behind," he says. "There are countless scenes when we're using the entire sound space and other scenes where it's strictly on the screen. I was able to immerse the audience in the orchestral soundscape and take sounds off the screen so we're not sharing the same "sonic" real estate. It's like wiping down a dusty computer screen – there's so much more detail revealed. The perception of sound imaging is incredible, and it really allows you to increase the emotional value."
Music also benefits from an Atmos mix. The score was made up of a full live orchestra, and rock music and vocals. "The bigger gains in Atmos is the use of music," says Fluhr. "With vocals and individual instrumentation and choirs, it creates a very interesting experience. We used it all on Planes."
"A lot of pre-planning went into designing Planes: Fire & Rescue," says Fluhr. Pre-planning was also important to enable the mixers to do a complete virtual mix, which meant that no pre-mixes were recorded. "With a pre-dub to a smaller number of channels, it's not a large palette of tracks," Fluhr says. "You're tied into your choices. With Planes, we were mixing with all 1,000+ channels live on the stage. That requires a huge amount of horsepower and a lot of management, but that's the key to mixing in Atmos: planning everything in advance and working within a system. And with the way Brian Saunders and the terrific engineering team at Disney designed our facility all this and more is possible."
"With the Atmos Experience, people are exposed to sound in a way they've never been before," he says. "Once filmmakers have heard it, they fall in love. Still, we have the responsibility to make the traditional 7.1 and 5.1 versions as good as possible because most people around the world will hear it that way."
Switching to Atmos has created so many new possibilities that it's been a learning curve. But everyone at Disney Digital Studios' has embraced the tools for improving the aural experience of storytelling. "We can bring this creative palette to work in different ways on a variety of films," says Saunders, who reports that every creative mixing space on the Disney lot will be Atmos-capable by Fall 2014. "Disney is very supportive of its filmmakers' creative choices with systems such as Atmos. We're great believers in helping expand the creative options that enhance our audiences' experiences with our films."
"Everyone is happy and excited how the mix for Planes: Fire & Rescue came out," adds Hall. "Now it's all about delivering this film to audiences around the world theatrically and in the home. We hope they get to experience this film in a way that allows them to enjoy the great care and creativity that went into making it."